Is there some big piece of scientific data or compelling evidence that President Trump has in regards to climate change that the entire world does not?
The reason I ask this question is based on the news lately that President Trump's first overseas trip was partly plagued by difficult discussions regarding climate change and the commitment to the Paris Climate Agreement. Here is the tweet from NBC shown below:
In the article titled "
Trump Declines Endorsing Paris Climate Change Deal at G7 Summit, Will Make Decision Next Week
" the troubling excerpt appears regarding the participation of the United States:
"The entire discussion about climate was very difficult, if not to say very dissatisfying," German Chancellor Angela Merkel told reporters. "There are no indications whether the United States will stay in the Paris Agreement or not."
This is an extremely disappointing message coming from a powerful European ally. European nations along with large corporations have been sending messages to President Trump to encourage him to have the United States stay in the Paris Agreement set last year. Below, I just want to clarify why it is important for the United States to stick with the agreement on climate measures (briefly) then follow up with more emerging encouragement which again points toward staying in the Paris Agreement.
Why Stay?
In my last post on the topic of the Paris Climate Agreement
, I show two encouraging letters from a consortium of large corporations. The total amount of money represented in these corporations and entities represent investments into the trillions of dollars. The money which is at stake is being directed toward investing in clean renewable energy in the future. Included in these signatories are large oil giants like "BP" and "Shell." Just today, again, the news agency
'CNN' releases an article citing major corporations encouraging the U.S. to stay
:
If Trump bails on the agreement, which has been signed by 195 countries, he will do so over the objections of hundreds of major U.S. businesses.

In recent months, big business has lobbied fiercely in favor of the deal, which aims to end the fossil fuel era. Even major oil firms like Chevron (CVX) and ExxonMobil (XOM) back it.

Exxon CEO Darren Woods wrote a personal letter to Trump earlier this month, urging him to stick to the deal. The U.S., he said, is "well positioned to compete" with the agreement in place and staying in means "a seat at the negotiating table to ensure a level playing field."

It might appear to be a strange move for energy firms, but many like the agreement because it favors natural gas (which they produce) over dirtier coal.

It's more than just energy firms, though: Microsoft (MSFT, Tech30), Apple (AAPL, Tech30), Starbucks (SBUX), Gap (GPS), Nike (NKE), Google (GOOGL, Tech30), Adidas (ADDYY) and L'Oreal (LRLCY) all support continued U.S. involvement.
The companies listed above are no small companies. Furthermore, the
two letters in my previous post,
detail large amounts of investment and employment which President Trump has campaigned on bringing back to America. More than 200 countries have signed. What is wrong with the U.S.?
For starters, let me remind you what it means to stay in the agreement. To set arbitrary limits on greenhouse gas reductions is the obvious first step. Although, the major step is to get all the large players (global gas emitters) to the table. The difficult concept to realize in understanding the process of bringing gas emitters to the table is to look at their respective technologies in place.
Take for instance, India. Many regions in India still do not have access to electricity and water. Yes, you read correctly. No water and No electricity. Now, can you imagine a diplomat from the United States arriving and telling an Indian diplomat to stop building a coal power plant.
Especially, since the electricity that will be provided will be to those who have never had electricity?
It is easy for the United States to realize a change is needed. Given the investment in renewable energies, the transition is not far off in realization. But to ask a nation which does not have consistent water and electricity to change is mind blowing. Furthermore, to be the country that will not change is astoundingly disappointing to say the least.
President Trump should be super embarrassed along with his cabinet if the administration chooses to abandon the Paris Agreement
.
Furthermore, in an article (or editorial) titled "
On Climate, Look to China and India
" from '
The New York Times
,' the editorial board offers great news on China and India:
China and India are finding that doing right by the planet need not carry a big economic cost and can actually be beneficial. By investing heavily in solar and wind, they and others like Germany have helped drive down the cost of those technologies to a point where, in many places, renewable sources can generate electricity more cheaply than dirtier sources of energy like coal. In a recent auction in India, developers of solar farms offered to sell electricity to the grid for 2.44 rupees per kilowatt-hour (or 3.79 cents). That is about 50 percent less than what solar farms bid a year earlier and about 24 percent less than the average price for energy generated by coal-fired power plants.
The shift from fossil fuels has thus been much faster and more pronounced than most experts expected. China has reduced coal use for three years in a row and recently scrapped plans to build more than 100 coal power plants. Indian officials have estimated that country might no longer need to build new coal plants beyond those that are already under construction. One other heartening fact: Electric vehicle sales in China jumped 70 percent last year, thanks in large part to generous government incentives. India is much further behind in this area, but the country's minister of power said last month that all cars sold in the country should be electric by 2030.
The news of renewable energy investments by both China and India are very encouraging.
Which leaves one to wonder what is happening in the United States? Why are we having such a difficulty transitioning as a democratic society toward renewable energy?
For a certain percentage of the U.S. population, the answer lies in the countries decision of the last election cycle. President Trump ran on the popular opinion that 'climate change' was a 'hoax' and that the U.S. would not waste valuable resources to invest in transitioning toward renewable energy sources. If that were the case, then why does the statistical map below indicate that are large number of U.S. residents would like the President Trump to stick with the Paris Agreement? The map is taken from the article titled "
Majorities of Americans in Every State Support Participation in the Paris Agreement
" out of the Yale program on Climate Change Communication: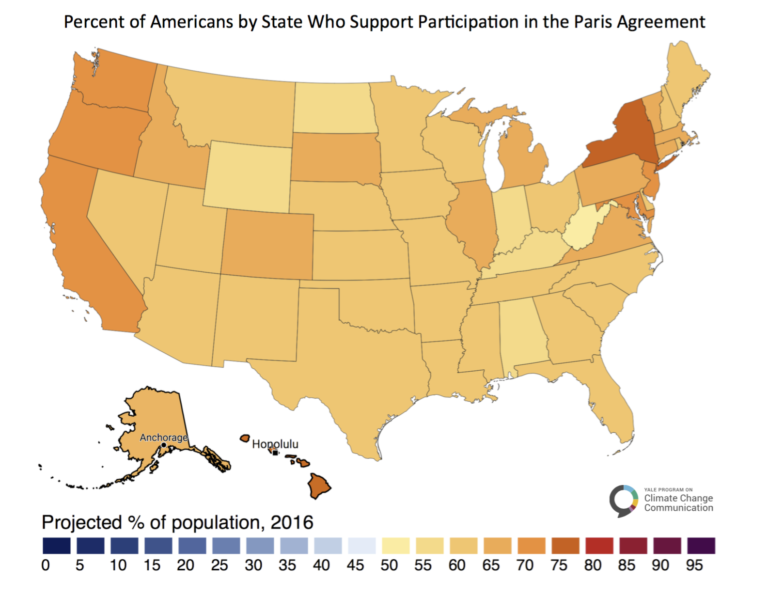 Furthermore, the states are represented at the local level by Governors.
A letter was sent on May 8th by 12 Governors to President Trump encouraging him to stick with the Paris Agreement
. The letter is shown below:


Dear Mr. President,

We write as Governors of 12 states that are home to 107 million Americans and comprise approximately 38 percent of the nation's GDP, to urge you to keep the United States in the Paris Climate Agreement. Given the progress our states have made in reducing greenhouse gas emissions, we are convinced that the United States' goal of 26-28 percent below 2005 levels is readily achievable. Maintaining the U.S. commitment is essential to protect our residents, and indeed, all Americans from the potentially catastrophic impacts of a changing climate.

We see our climate changing today through rising sea levels, increasing flooding, drought, and decreasing snow cover. These changes are causing forest fires and water shortages, adding to air pollution levels, and accelerating the spread of disease-carrying pests and causing illness and death from extreme weather patterns, amongst other impacts. Our states stand to bear the brunt of these climate change impacts and the economic costs running in the tens of billions of dollars or more.

We stand ready as state leaders to continue to support the achievement of the existing U.S. Nationally Determined Contribution (NDC) to the Paris Agreement—and if possible to go further, faster. The policies we are implementing that support the U.S.'s achievement of its Paris commitment not only cut carbon pollution—they also create jobs, boost competitiveness, and bring clean energy and a cleaner environment to our citizens. These benefits can and should accrue to all Americans.

Collective action to limit emissions world-wide is critical; without collaboration, climate change will cost the world's nations several trillion dollars in damages. Under the Paris Agreement, all the world's major economies are taking action on climate change for the first time, including China and India, which have put forward their own commitments to cut their carbon pollution domestically. If the U.S. does not maintain global climate leadership through national policies to reduce greenhouse gas emissions and transition to clean energy, China and India will. This would be a huge lost opportunity, putting us at a competitive disadvantage and potentially locking us into technologies and economic pathways that are increasingly obsolete while China and India reap the benefits of low-carbon leadership.

In each of our states, the path forward is clear. Our citizens demand the low-cost, clean-air benefits that a clean energy transition can provide. Our leading U.S. companies recognize the need to address business risks and opportunities through the Paris Agreement, and are wisely investing in low-carbon fuels and technologies to stay on the cutting edge of the global economy. Our track record—reducing carbon pollution while growing jobs and our economies—provides proof that we need not sacrifice opportunity for action. Indeed, we can secure that opportunity only by continuing to lead.

Sincerely,
12 governors signed this letter. I realize that not all fifty governors signed the petition. But look at the governors -- all from big states with large economies and employment opportunities. The letter is worth considering to say the least. Furthermore, the letter states the obvious which has been stated elsewhere in news stories -- stay in Paris Agreement.
If we look up higher in the government structure once again,
another letter appears from 'Climate Solution Caucus' of Congress
. Here is their letter:
Dear Mr. President,
As members of the Climate Solution Caucus, we respectfully urge that the United States maintain its commitment to the Paris Agreement under the United Nations Framework Convention on Climate Change (UNFCCC).
The world's leading nations must work together to not only reduce greenhouse gas emissions, but also mitigate and prepare for the effects of climate change, which many of our communities are dealing with on a daily basis. The UNFCCC brought nearly 200 nations to the table to make commitments addressing the global threat of climate change. This monumental agreement signaled that the world's largest carbon polluters, including China and India, are ready to transition to a low-carbon economy.
It is imperative that we maintain our seat at the table in global discussions of how to address the threats posed by climate change. The Paris Agreement gives us the chance to negotiate deals with other countries on greenhouse gas reductions and verify that everyone is keeping up with their pledges, without sacrificing our independence or self-interest.
At Paris, the United States pledged a 26 to 28 percent reduction in U.S. greenhouse gas emissions by 2025, and we are already well on the way. These goals are achievable, but they will require hard work, and along the way will create massive opportunities for American companies and workers. Reviewing and updating our contributions to the Paris Agreement are part of the process, but we know that our economic growth and dealing with this threat are not mutually exclusive.
Remaining in the UFCCC will strengthen American leadership on environmental stewardship and help transform today's low-carbon investments into trillions of dollars of clean energy prosperity. Withdrawing would mean squandering a unique opportunity to promote research, ingenuity, and innovation.
It's our hope that your Administration will take a responsible approach and seek effective market-based solutions to address this serious issue. Given the reductions we've already seen, our government and private sector are positioned to make the United States the leader in the fight against climate change. We stand ready to work with you to maintain America's commitments under the UNFCCC and support well-paying American jobs, economic growth, and a cleaner and safer America for future generations.
Cordially,
The following congressional representatives signed the paper: Carlos Curbelo (Republican), Theodore E. Deutch (Democrat), Patrick Meehan (Republican), Donald S. Beyer Jr.(Democrat), Ryan A. Costello (Republican), Anna G. Eshoo (Democrat), Brian Fitzpatrick (Republican), Brendon F. Boyle (Democrat), Alan Lowenthal (Democrat), Charlie Crist (Republican), Suzanne Bonamici (Democrat), Daniel W. Lipinski (Democrat), Earl Blumenauer (Democrat), Seth Moulton (Democrat), Scott Peters (Democrat), Salud Carbajal (Democrat), Peter Welch (Democrat), John K. Delaney (Democrat), Jerry McNerney (Democrat), Thomas Suozzi (Democrat), Ann McLane Kuster (Democrat)
The committee is made up of 5 republicans and 15 democrats. Click on the highlighted links on each members name to access their official webpage.
This represents a small number of republicans who are worried about climate change. Actually, supposedly there are more who will not commit publicly for fear of removal from office.
Which I do not really understand why?
The discussion needs to start now.
Conclusion...
The discussion is already under way.
In the last post
, the letters indicate that large corporations have started to divest their investments into renewable energy.
And why would they not do this for divestment purposes?
Especially, since in
an earlier blog, I point out the both Bill Gates and Sir Richard Branson have independently started initiatives
toward moving massive amounts of investment toward renewables. The
science community has written him letters
throughout the last few months.
Republicans have written him letters
about his movement away
from funding the Environmental Protection Agency
. Additionally, his directive toward
removing research data that is tax payer funded is ridiculous and makes the world a less informed place
. As citizens, we need to stand up to this assault on science -- in the
form of a march
and
writing our elected representatives
.
Obviously, President Trump has previously decided to head the opposite way of science which is astounding to say the least. His
behavior is bizarre and unprecedented
toward foreign leaders. Climate change is only one variable which is being defunded. Take a look at the follow pictures in the post -
here. Here is where we are headed
. The possibility does exist that
our oil demand is to great to replace the renewable energy transition completely
. Although, if that was the case, then big oil would definitely not be signing onto letters above.
Think about it.
Why do big oil corporations care whether we stay in a climate agreement?
Here is
another picture of where we are headed with little-to-no regulation
. The next time that you turn on your faucet to wash your hands, just think about the water coming out for you. Yes you pay, but do not totally pay for all of it. The solution going forward is complicated. There is no simple answer. Although, at the very least,
members in congress could be more straightforward (honest)
about the methods used to evaluate scientific data - which is critical to human health.
I would encourage each of you to read the highlighted text (which leads to a previous blog post) and tell me your opinion. Am I completely off base? Lets return to his campaign promises toward science --
located here
. Then while considering the emphasis lets adapt to changing situations such as the North Dakota Access Pipeline -- which offers a great deal of employment -- as long as new technology is implemented to prevent oil spills of recent magnitude.
Put workers back to work inspecting the 2.5 million miles of existing pipeline running through our nation
. This work will allow them to work on their 'mobility' -- to exercise -- and boost their confidence with returning to work. Into the future, we as a nation (and as a world) need to think outside of the box. The exact methodology in doing so while moving forward is a complex issue. With a discussion ongoing, we are more likely to find a solution.
Until next time, have a great day!!!!